We are thrilled to share some extraordinary news: our very own Account Executive, Steven Ellen, is in the final four for the South East Young Professionals Awards 2023. The winner will be announced next week!
Steven is nominated in the prestigious 'Young Marketing and Media Professional' category. Steven's dedication and hard work have significantly impacted our team and clients, and we can't think of anyone more deserving.
Having joined us nearly two years ago, Steven had spent twelve years at his previous company, a crafts manufacturer. He wasn't always involved in marketing but followed an instinct that he had a born talent and offered to help in that capacity there.
It turned out he had a knack for marketing and having completed qualifications in the subject, it's now his full-time job.
Steven's decision to take on a new challenge in a different sector and a smaller, relatively new agency shows his courage and ambition. He was not only looking for a change, but he also had faith in us as his new employer. And we couldn't be prouder of how he has grown into his role here.
"There came a time when I simply felt the need to grow and evolve," explains Steven, "and I felt that doing so would be better at a new company with lots of energy.
"That's exactly what I encountered here at Morton Waters. This is a place where creativity and energy are valued and utilised. I've been able to learn a lot so fast here."
As an Account Executive, Steven has the critical task of working across various client accounts. He is responsible for delivering and reporting on the success of the digital marketing strategies set by the Account Director. But his role doesn't stop there. Over time, he has embraced client management tasks and shown a natural talent for building robust relationships.
Steven's impact on client retention and relationships over the past year has been phenomenal. As one of our client's primary contacts, he's critical to maintaining and strengthening these relationships.
He's part of the team managing our largest client, often demanding a significant portion of his time. Steven always handles this with patience, earning respect and appreciation from our clients.
His technical skills are another aspect that sets him apart from many others. Steven is quite the digital marketing guru, proficient in social media, email newsletters, and more. His mastery extends to website CMS, and he stays updated on the latest algorithm changes and social media techniques.
"I leverage this knowledge to optimise client campaigns," says Steven.
"I'm always looking for opportunities where I can help. If that help means learning something new to solve a challenge faced by a client, I learn how to do it. There are so many resources out there on the internet that you can learn almost anything if you put your mind to it."
All these reasons make Steven a strong contender for this award. His bravery to take the leap of faith, help the agency achieve steady growth, and excellence in maintaining client relationships make him more than deserving. Winning this award would be the perfect recognition for his hard work and determination.
But don't just take our word for it. Our clients have wonderful things to say about him too. Tony Hill from Eden Facades praises Steven's knowledge of their sector and his proactive attitude. Philippa Hilton from Harwood Building Control commends his professionalism, quality work, and ever-helpful attitude.
"Steven's knowledge of our sector, combined with his eye for design and proactive attitude, has helped to solidify our social presence. Steven always delivers work on time and to a high quality, he is a pleasure to work with."
Tony Hill, Eden Facades.
"Steven is an absolute delight to work with, always there to assist and answer any questions, his ability to be patient and polite knows no bounds. Producing quality work that is tailored to our requirements and branding, always professional with a positive attitude. I think we have a great working relationship and I'm sure he will agree. Ever the professional."
Phillipa Hilton, Harwood Building Control.
Steven says working with such great clients has made his job easier: "I guess it's a truism that it'd be a more difficult job if the clients weren't so cooperative! Fortunately, the people we represent are fantastic, and I'm delighted they enjoy working with me too.
"We'd be nothing without the people we serve. That's why I always ensure that our relationships with clients are as strong as possible. We want to understand their positioning, message and identity better to really amplify them in the market."
On a lighter note, we discovered on a team day out last year that Steven is not just a marketing whiz but also a ping-pong shark! When the music cranked up at Bounce, Steven emerged as the unexpected ping-pong champion. It seems like his skills are not just limited to digital marketing.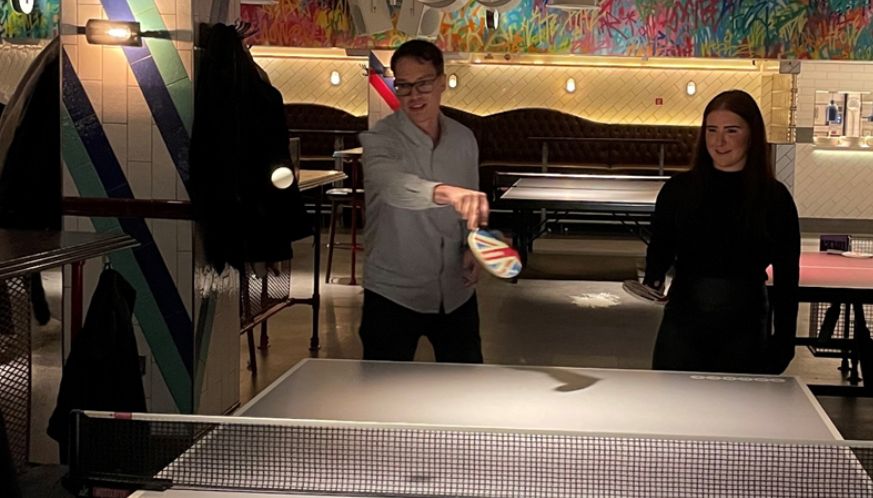 Steven is an exceptional professional and an invaluable asset to Morton Waters. He's already Marketer of the Year in our eyes, whatever the outcome at the awards.