As a manufacturer or supplier of products for construction projects, specifiers are a critical audience for you as they are essentially the gatekeepers for what makes it onto the order sheet.
Building a good relationship should be a specific objective of your marketing campaign, and this goes beyond just bombarding people with information you think they should have about your company.  But how much effort do you put into building those relationships?
If you want to put your products in the frame for consideration, and have them viewed in the light you think they deserve, you could benefit from looking at how you provide information on your company, products and support services to ensure that you are focusing on building relationships, and central to this is ensuring that you are meeting the needs of the specifier.
Gaining specific understanding
Specifiers can come in many guises – quantity surveyors, architects, interior designers to name only a few – so being able to clearly define who fulfils the role in your buying cycle is critical, but that's only the start of the work.  One of the most important traps to avoid is making assumptions about your audience, but if we look around the industry, it's one we see companies falling into all the time. Assumptions about levels of knowledge, available time, priorities, even that they should be interested in the products in the first place!
To avoid making costly errors, invest in audience profiling to get valuable insights into elements of your specifiers' behaviours, levels of knowledge, preferred channels, available time, acceptable levels of risk and the pressures they are under.  Armed with this knowledge your marketing campaigns have a much greater success rate because they can be targeted to deliver specific elements, rather than taking a broad-brush approach, one can mistakenly be much more reflective of your own goals rather than those of the specifier.
This can be approached in a number of different ways to suit available budgets – of course a large scale customer segmentation with give statistically valid data but even 10 phone interviews can elicit good insights, if they are conducted correctly.
We've created an ebook on this topic, which can be downloaded here.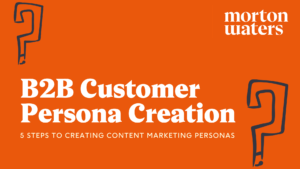 Be a reliable source of information
Once you know what your audience is interested in, investing in supplying good quality information that is balanced and not-overly promotional is a sound way to build a relationship.  We all recognise that we can't be experts in everything, so we lean on those we trust to bolster our knowledge – look for ways to fulfil that role for your specifiers. It's just not practical for them to have specialist knowledge in all the different product areas, so they need to know who they can go to when necessary.  Rather than only telling them about your product lines, providing insights into market developments and opportunities or educating them about the sector can show that you are knowledgeable, trustworthy and adding value to the relationship.  This deepens your brand value and elevates you from just being a product supplier.
Some of the different ways in which you can share your knowledge and keep specifiers informed about change include:
Email newsletters
Lunch and learn sessions
CPD presentations
Whitepapers
Web content
Slideshares
One critical element is your website, which really needs to be written with your visitors and their user journey in mind.  These can be a hugely valuable resource, but so often we see much of the information that a specifier would consider useful in the early stages of research is locked behind logins.  At this stage, they are only really browsing and don't want to open themselves up to any 'hard sell'.  Putting up barriers such as logins or email entries can be a real turn-off – if you think about your own experiences of retail purchasing, there is a fair amount of research that happens before you are interested in, and comfortable with, having a discussion with sales rep.  Don't force that to happen earlier than your customer is happy with, they'll simply click away and that will be that.
Their good experience wasn't a fluke
Another element of building good relationships is to show that you a capable of, and committed to, good service across the board.  Sharing case studies and testimonials can show to new clients that their recent good experience is one that they should be looking to experience again and again, rather than it being a one-off.  If you can show to new customers that you are capable of building and retaining good relationships over long periods of time, they will be more inclined to put their trust in you again.
Creating a process by which case studies and testimonials are completed and shared at the end of projects not only contributes to raising your profile and supporting your brand values, but also gives existing customers the opportunity to raise any niggling issues that need to be addressed and again shows that you value more than just the payment of this final invoice.
Early engagement
If we had a pound for every time we've been told that a company wants to be involved from the early stages of a project's planning…!
In reality, this is a tough sell if all you really want to do is to get a product onto a specification.  But, if you can actually demonstrate that you can add value, prevent budgets from spiralling and keep projects to time schedules then you can earn a place at that table.  Again, this takes time and an investment in relationship building and prioritising the audience's needs, but the dividends will make it worthwhile.
Like all good relationships, they aren't built overnight but result from a consistent level of activity which puts the needs of the specifier to the forefront.  If you want more information on how to build relationships, drop us a line…..